The New York Times included my performance of the Rouse Flute Concerto in David Geffen Hall in the recommended of the week! Read more about it HERE. You can also read the press release of the concert HERE.
The Baltimore Sun included an article on my chamber music fundrasing concert for the Luke Touhill Foundation, whose mission is to connect people with the environment in meaningful ways and support organizations like Blue Water Baltimore, the watchdog for Baltimore's waterways, HERE!
The New York Classical Review wrote about my performance of Berio's Sequenza I in Alice Tully Hall at Lincoln Center: "Consolati played with an agile mind, expressing his ideas about the music through the shape of his phrases and the way he vigorously drove through each line"… read more HERE!
MusicalAmerica was also at the concert: "Giorgio Consolati showed expertise with pacing and technique, including extensive trills and flutter-tonguing, all interspersed with accents delivered like small darts. His lustrous tone was balanced by a mischievous streak—as if Shakespeare's Puck had decided to take up the instrument"… read more HERE.
The Flute View wrote an exciting review of Tour De Flute, my new album! Read it HERE!
The Rutland Herald HERE writes about the last concert at the Marlboro Music Festival 2019, including Giorgio's group performance of Poulenc's Sextour for Piano and Winds
The Bennington Banner wrote about the Musicians from Marlboro Tour – February 2022 HERE!
Il Settimanale Pavese wrote about my upcoming Masterclass at Conservatorio "Vittadini"!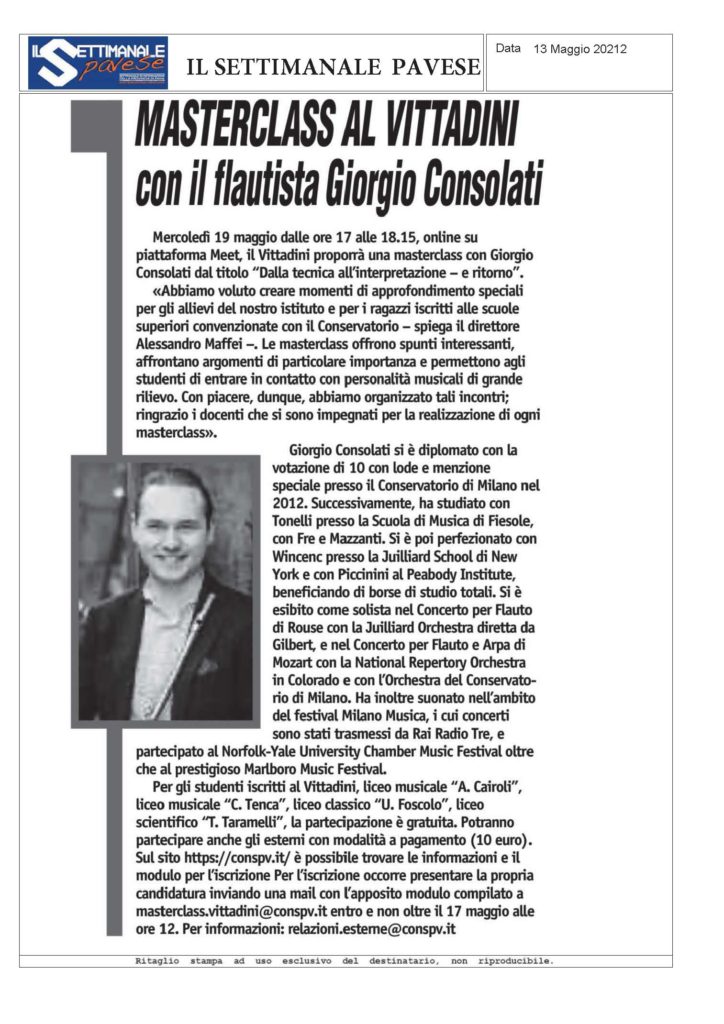 Suonare, Musica, and the newspaper La Nuova Sardegna writing about Giorgio's and pianist Chantal Balestri's premiere of the "Variations on a theme by Beethoven" by Roberto Piana, which received great success from the public!
Eye on Culture, Juilliard's blog featuring selected international students, asked me some fun questions…check it out here: https://juilliardoia.wordpress.com/2017/04/26/giorgio-consolati/
Panorama Online, one of Italy's most read magazines featured Giorgio and a few other Italian musicians in New York, discover more about our experiences here: https://www.panorama.it/uncategorized/alla-scoperta-dei-segreti-della-juilliard-manhattan-e-new-york-university/
The Flute View asked some questions to four Juilliard flutists for its Spotlight. Read more here: http://thefluteview.com/2016/01/spotlight-juilliard-students/